Modern Island Villa Receives International Praise
Project Ö is a recently completed holiday home project in an archipelago located at the edge of a national park. The project was designed and realised by Aleksi Hautamäki and Milla Selkimäki. The name Project Ö comes from the Swedish word 'ö', which means island. The project began two years ago with the purchasing of the island, after which a main villa, sauna included, and a workshop have been built there.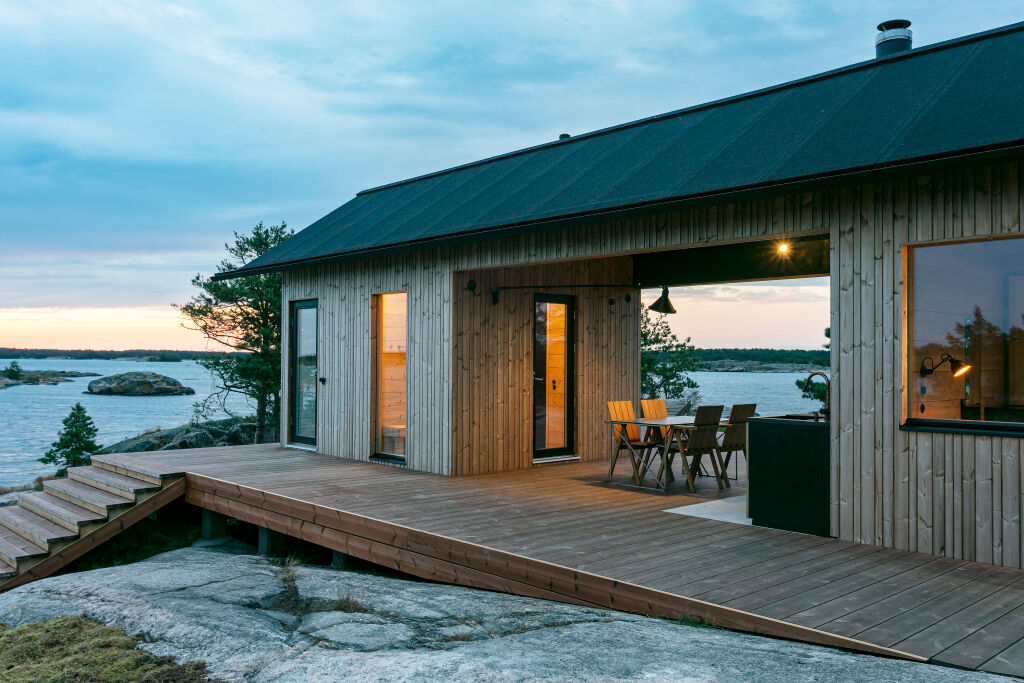 With the steep roofs, long eaves and lengthened gutters, the buildings' architecture pays respect to the traditional Finnish island architecture. Even the panelling on top of the timber follows tradition as it is laid vertically. The shape of the buildings is long and narrow, which makes it possible to have large windows with their wide-ranging views and to place very different functions at the ends of the buildings. For example, the adults can enjoy their evening in the common spaces, while the children sleep in the other end of the building.
The spark for the design was the idea of fitting everything necessary into a space that was as small as possible. Each space has been designed to be as compact as possible, without compromising the usability or comfort. The total surface area of two buildings is only 70 square metres, but as many as 10 adults can comfortably sleep in the buildings. The buildings were designed in cooperation with Olavi Kujanen, Creative Director at Kontio.
For us, Project Ö was an interesting new enterprise, in which we definitely wanted to participate. Using Kontio's structures and technical competences, we helped to make the fine architecture possible. The carefully considered details create the high-quality result, and immediately at the beginning of the designing, we saw that a lot of attention had been poured into the details. Timber is always a suitable choice for challenging conditions. In this project, the ecological timber merges wonderfully with the idea of self-sufficiency. Cooperation with Hautamäki was unreserved and pleasant.  – Olavi Kujanen
The island is completely self-sufficient. The electricity is solar power from the island's own solar panels and the drinking water is purified from seawater. The villa has running water and a normal toilet, heating and cooling and a modern kitchen. The sauna stove heats the service water and the same system works as the heat source of the underfloor heating. When you spend time here, you can truly feel like a part of the untouched nature. 
Resident: Aleksi is a spatial designer and the founder of Bond Creative Agency and his spouse Milla is a graphic designer.
Project Ö has been presented in many magazines and online publications that report on international architecture and interior design. Top-line architecture and ecological solutions blended with the stunning Finnish archipelago is a globally attractive combination.